The Ultimate Guide to Discover Your Passion and Purpose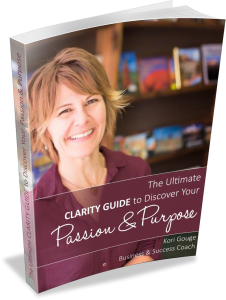 Presented by Kori Gouge
For a limited time only, get this incredible guide for only $13 (valued at $59).
Are you tired of doing work that is no longer fulfilling? Are you sick of feeling as if you are never going to figure it out? Are you ready for a change but don't know where to start?
What if you could gain instant clarity and start living your ideal life right away? How would you feel?
Believe me, I have been there.  I had advanced in my career and was managing a non-profit program for one of the largest organizations in my city. While I connected with the mission of the work, my heart was no longer in it. I finally realized that what was missing was my own intuition and power, as well as connecting my gifts, talents, skills, strengths and interests with how I best worked. Once I developed several key practices, my path was clear. I share these powerful tools in my Clarity Guide.
With a bachelor's degree in Psychology and a Master's degree in Intercultural Communication combined with 15 years coaching, training, and teaching experience, I use my gifts to help more people come alive. I help them connect with their passion and purpose to do work that aligns with their unique gifting and with how they desire to work.
I created this guide to simplify the process of discovering your passion and purpose. Don't spend another day lamenting your state of confusion, sign up now to get clear on the work you are meant to do.
Are you ready to start boldly showing up in your life?
In this powerful training, I guide you through the Six Steps that you need to gain clarity on your right work – work that aligns with all of who you are.
You will receive powerful mindset tools to start living your ideal life today while clarifying the vision for your dream life.
You will gain clarity on your passion and purpose.
Are you ready to get unstuck and reclaim your zest for life? Let's do this!